Lithium-Ion Powered Forklift
The ePIcker EFLP30 is a 6,000 lb. load capacity, 80v 410AH Lithium Powered Forklift designed to operate both indoors and outdoors to handle your toughest application with ease.
Built on an IC truck chassis that has been equipped with a streamlined design counterweight, the ePicker new generation of the EFL series features enhanced durability and greater maneuverability in confined spaces.
Ergonomic features include an upgraded LCD display that consolidates essential truck information at one glance, which ensures ample workspace and fosters an easy driving experience. The overhead guard has also been structurally reinforced to offer more flexibility in the cabin design to enhance operator comfort and ease of use.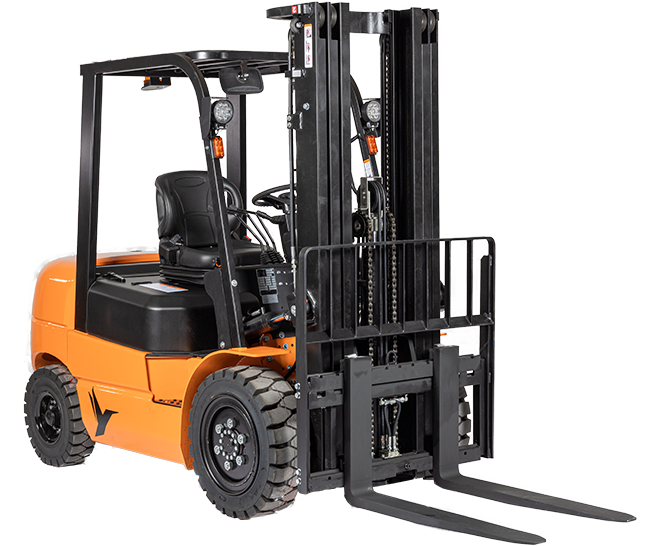 Operator Compartment
Operator compartment is exceptionally spacious due to purpose-built design for an integrated lithium battery. Ergonomic controls are provided for lift, lower, tilt and sideshift, which are within easy reach of the operator. Visibility is excellent through the wide view mast. Power steering with assist knob, adjustable steering column & adjustable suspension seat ensures comfortable working position and reduced fatigue during operation. Large mirror and overhead guard mounted hand rail aids operator when driving the in the reverse direction of travel. LCD programmable display communicates travel speed, battery discharge information, hour meter, and fault codes.
Hydraulics
Hydraulic lift and drive components are sealed against dirt and water protecting them from contamination. Optional 4th valve, with control and hosing is available to support two function attachments.
Electrical
80v AC controller technology delivers high efficiency and performance while significantly reducing maintenance cost and extending vehicle service life.

Vehicle features weather resistant components and construction to facilitate limited use in outdoor environments.

Battery management system monitors lithium battery performance during operation and charging to help extend battery service life far longer than traditional lead acid industrial batteries.
Drive Unit & Brakes
AC Drive motor delivers smooth torque and speed performance matched to vehicle needs in real-time for peak efficiency and performance. Regenerative neutral braking extends duty-cycle. Vehicle's brakes and lever actuated parking brake ensure effective stopping power during operation and when on rated grades.
Frame & Masts
Heavy duty steel chassis features long wheel-base, wide tires and low center of gravity for stable operation. Wide view mast includes an integral side-shift and load back rest (LBR). High seating position gives the operator an excellent view for efficient load handling at ground level and elevation. Integral sideshift as standard equipment. Triple stage wide view masts deliver maximum lift heights of up to 197".
Serviceability
On-board programmable LCD display allows for troubleshooting and system adjustments without need of tools. Units come pre-wired for optional telematics system that includes cloud based maintenance monitoring, GPS tracking and related data services.