Electric Walkie Straddle Stacker
ES10-62 / 96 / 116 / ES15-128
Of all the types of equipment you can use to move or lift pallets, the ePicker Walkie Straddle Stackers deliver the most capability per dollar. Available in capacities of 2,500, 3000 and 4000 pounds, ePicker straddle stackers can lift pallets as high as 177 inches while operating adjust half a cost of a comparable sit-down forklift. The ePicker straddle stackers weigh just half of what they can lift, reducing both wear and tear on components and danger to personnel in the area of operation.
Whether you need one versatile lift truck or need to supplement an existing fleet, pound for pound the ePicker Walkie Straddle Stacker offers exceptional value. Walk and get the job done for less with an ePicker Walkie Straddle Stacker.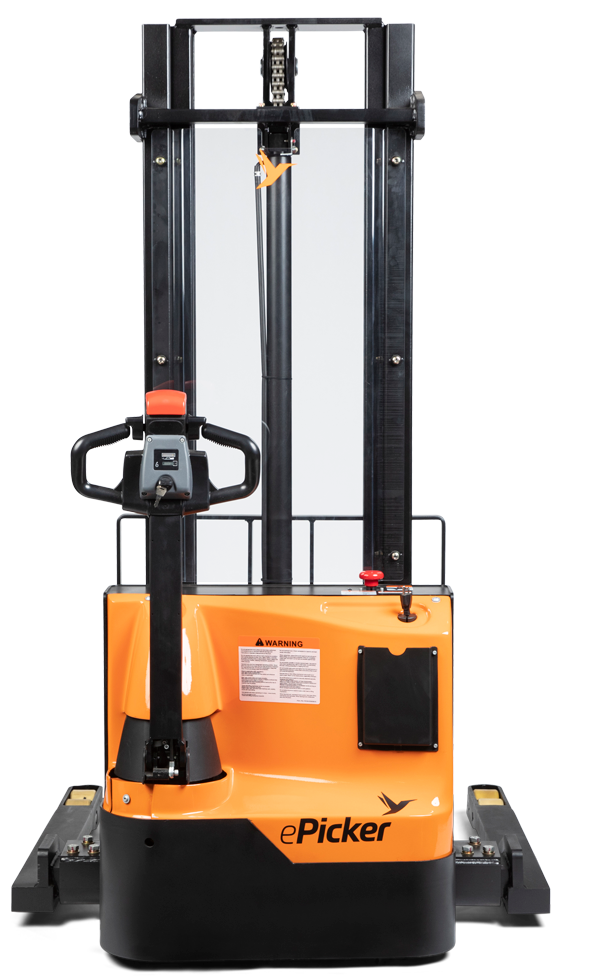 Hydraulics
Lift cylinder is hard chrome. Permanent magnet pump motor and chrome plated lift cylinder provides smooth lifting and lowering. Pump unit includes DC motor, solenoid, and gear pump.

Brakes
Electro-magnetic disc brakes.
Electrical
Curtis travel control provides smooth step less travel. Quick disconnect EPD power cut off and battery discharge indicator are standard equipment.


Drive
24-Volt permanent magnet DC drive motor withrare earth neodymium magnets increases efficiency and duty cycle.
Tiller Arm Control
Offset steering arm provides excellent line of sight for operators. Right angle stacking in aisles as narrow as 60".

Travel, lift, and lower functions are located in the ergonomic operator handle. All operator controls are accessible without having to lift the hand from the handle.

Angle grips are designed to allow easy operation with either hand. Wrap around guard, reversing switch, thumb control, and horn are standard. Low mounted tiller arm offers excellent operator comfort and minimum steering effort.
Frame and Straddles Legs
All steel construction welded rigid steel chassis for added durability. Adjustable forks on ITA style carriage. Forks are adjustable from 8" to 29.5" OD. Standard fork is 42" long x 4" wide x 1.5" thick

Three inch wide adjustable straddle legs for ease of operation in racked aisles. Four position adjustment allows for preset outrigger dimensions to fit various sized pallets. Straddle leg inside dimension (ID) can be set at 38" to 50" in 4" increments.

Fully enclosed wheel guard and flush mounted axles prevent wheel and axle damage during normal use.

Mast
ES10-62 has a non-telescoping mono mast with single lifting chain and adjustable mast rollers. Chrome plated lift cylinder provides smooth lift/lower operation and long life.

ES10-96/116 have a telescoping high visibility mast and inner rail, clear view Plexiglas mast guard, dual-lifting chains, adjustable mast rollers. Chrome plated lift cylinder provides smooth lift/lower operation.
Serviceability
Removable one piece power head cover allows for easy maintenance.