Electric Task Support Vehicle
Ideal for warehouse, eCommerce, retail and other industrial and commercial applications, the ePicker Task Support Vehicle was designed as an alternative to rolling ladders and much larger equipment used to complete elevated tasks in the workplace. Compact and capable, the ePicker Task Support Vehicle is highly maneuverable, intuitive to operate and an excellent equipment choice in support of overhead maintenance, inventory management or order picking duties.


The ePicker task support vehicle can do a lot for a small machine, the ability to drive, tow and elevate make it a unique and exceptional tool. Designed with operator comfort, accurate steering, employee safety and easy to learn controls, why not replace ladders in your facility with a safer more productive alternative? Contact your ePicker dealer today for more information or to schedule a demo at your facility.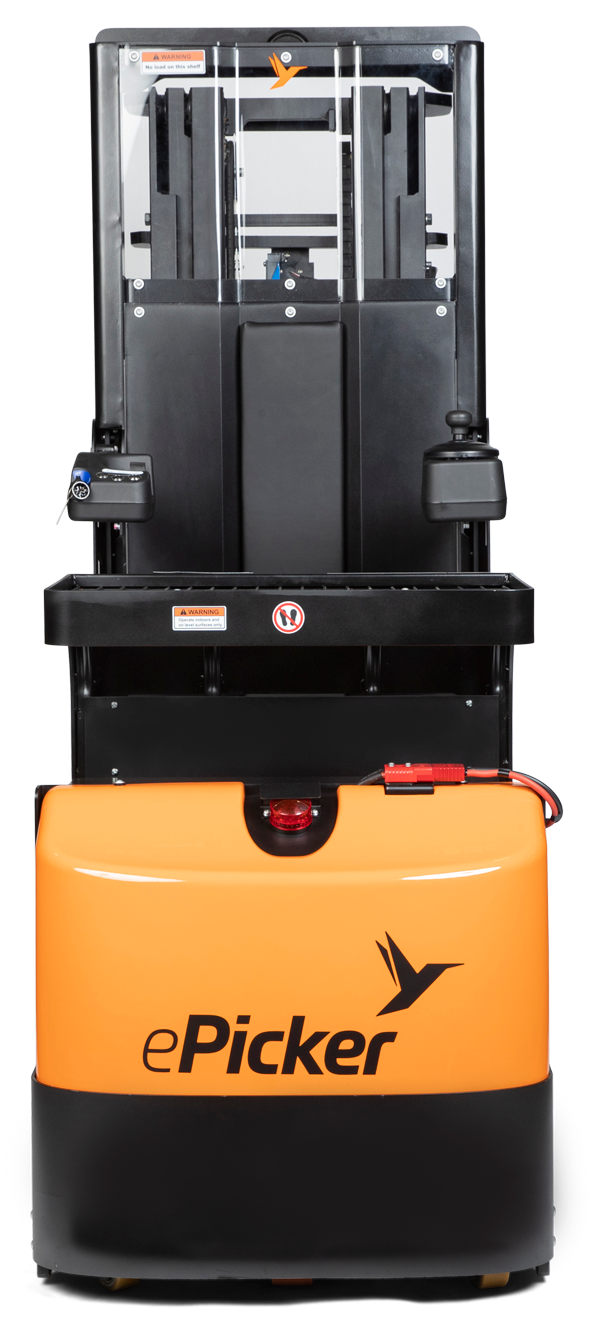 Electrical
24-volt AC system manages the vehicles' electronic power steering, acceleration, neutral braking and automatic speed reduction at height and during tight turns when cornering.

AC drive motor provides high torque throughout the entire drive range. The brushless design of AC technology drastically reduces maintenance and extends battery range. Lift and lower controls are single speed.

LCD dashboard display includes fault code diagnostics, hour meter, battery state of charge, travel speed and drive wheel directional indicator. The JX1 comes with an emergency power disconnect, key switch and horn as standard equipment.
Mast
Hydraulic lift and drive components are sealed against dirt and water protecting them from contamination. Optional 4th valve, with control and hosing is available to support two function attachments.

Chassis
Three point chassis design along with 180° drive motor steering arc provides exceptional maneuverability. Powerhead mounted stability casters add additional truck stability and operator confidence at working heights of up to twenty-two feet.
Operator Compartment
Ergonomic fingertip control for travel, lift, and lower functions provide the operator with logical intuitive drive characteristics while traveling at elevation or lowered. Roomy operator compartment is designed for productivity. Large storage compartment allows storage of clip boards, pens, and miscellaneous fulfillment tools. Retractable compartment siderails with audible alarm when raised.

Regenerative Brakes
Regenerative braking is applied when the operator removes their hand from travel control or when travel speeds are reduced. Electromagnetic parking brake is applied after the truck is stopped.
Other Standard Features
• Electronic power steering
• Hide away rear work tray
• Front and rear flashing light
• Battery compartment rollers